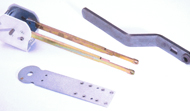 Cygnet Stamping & Fabricating is a premiere, full-service metal former and fabrication company.
Our expert engineering staff pours over your initial part designs to deliver to you the optimum match of design and process.
At Cygnet, we listen to what you want and apply our expert services to bear on your project.
At Cygnet Stamping, everyone takes an active part in quality improvement.